Antique Junk Mail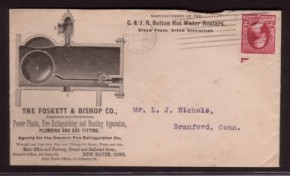 One of my favorite areas in this field, and a fine place to begin a survey, is the early advertising cover. The history of advertising mail tracks closely with rise of advertising in general. Between about 1840 and 1890 commercial printing saw many technological advances which made printed products much more affordable. Most notable of these advances and inventions were the rotary printing press, wood pulp based papers, and lithographic techniques for etching metal plates. As a result of these trends the modern newspaper and magazine industry emerged, and with it came the art of the printed advertisement.
Less expensive printing also led businesses large and small to begin to use letterhead and illustrated stationary to promote themselves. Illustrations covering the entire left side of an envelope are not uncommon, and neither are envelopes that are illustrated on both the front and back.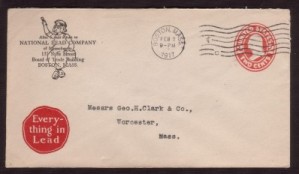 In addition to the use of illustrated stationary for everyday business correspondence, we see at this time the beginnings of direct mail advertising. This "antique junk mail" is ephemera in its truest form. It was mass produced, never intended to last, and virtually all of it was thrown away as quickly as it was received. Advertising covers are a great window into the past. The products and services being sold, the portrayal of women and ethnic groups, and even the fashions of the day all help us to understand a world which is now long gone.
The collecting possibilities are endless. Nice and affordable advertising mail is available from the about the 1870s until modern times. Some collectors will focus on a particular industry such as music publishers, food products, railroad companies, or hotels. Personally, I'm always on the lookout for old letterhead and advertising for companies and brands which survive in some form until today. The 1917 "Dutch Boy" cover from the National Lead Company pictured here, is a great example. I think I'm particularly fond of it because I remember the icon from my own childhood!